Shadows of the Past and other stories
A wise person once said, "Coincidences do happen, that's why they have a name."
Sometimes these coincidences stop us on our tracks and make us wonder, "Was that really
just
a coincidence – or did the hand of Destiny strike ever so gently?" We call them 'eerie' or 'uncanny', or 'miracles' or 'stroke of luck' or 'fate'.
"Shadows of the Past" takes you to the crossroads where coincidence meets luck, miracle meets destiny, on the thin line between the strange and the eerie. Perhaps those incidents are mere coincidences, and there is nothing inexplicable about them.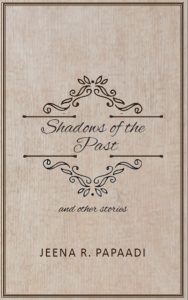 Reviews
"Engaging narrative. Author handles the plot well. Every story has a twist and keeps reader engrossed." – Pradeep on Amazon
"The stories were engaging, and the narration, simple. The eagerness to know what the twist might be keeps the pages turning." – Vinay Leo on Goodreads
"Really enjoyed reading the collection of short stories. My favorites being Rosa and awaiting August. The writing was simple to understand and pleasant." – Tejus on Amazon
"Each story manage to grip the reader and makes him want to read the rest. I liked the fact that no two story was similar, either in treatment or subject." – Anoop on Goodreads


What are you waiting for?? 
Purchase paperback edition from:

Amazon: https://www.amazon.in/Shadows-Past-Jeena-R-Papaadi/dp/9387649369/ (Also available from Amazon international stores)
Infibeam: https://www.infibeam.com/Books/shadows-past-jeena-r-papaadi/9789387649361.html
Flipkart: https://www.flipkart.com/shadows-of-the-past/p/itmf5jshqpyftw7x
If you are an ebook reader, you can find the book on Amazon Kindle: https://www.amazon.in/Shadows-Past-Jeena-R-Papaadi-ebook/dp/B01L2JURE6/
Add the book to your shelves at Goodreads: https://www.goodreads.com/book/show/40239056-shadows-of-the-past
Before you go…

… please remember to rate and review the book once you have read it, on the website where you purchased it from, as well as on Goodreads.

And while we're on the topic, check out my other books: https://www.amazon.in/Jeena-R.-Papaadi/e/B005HG4HMY/